Paul and Joe has always been a brand I have admired - mainly for their beautiful packaging, so I was very excited a few weeks ago when I got the chance to learn all about their latest products!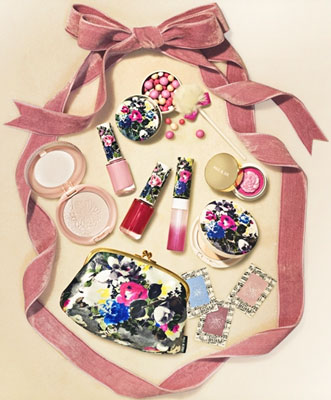 My favourite items in the Holiday Collection is the Symphony Eye and Lip Colour set, which comes in a gorgeous clutch/makeup bag in the stunning pattern that runs all the way through the packaging of this collection. Inside is your choice of two colour palettes - Adagio (£30) for lovers of neutrals and Allegro (£24 -pictured below).
Both sets include a lovely little lip tint with rose detailing and five sheet music eyeshadows. Although they may seem small at first glance each one contains up to 30 applications. The shadows are quite pigmented and smooth. The delicate colours they come in would be easy to apply with your fingers, without fear of being too heavy, making them absolutely perfect for makeup on the go! I think this set would also make a lovely gift, if only for the adorable clutch ;).
The collection also features a pressed powder duo in a case of the same pattern (£14). The duo has both a matte powder for blotting and setting and a shimmering pearl powder crescent for highlighting.
The powder is finely milled and lightweight, perfect for that 3pm touch up ;). The shimmer is also very subtle and adds a lovely, natural sheen without being glittery. I have been swirling both together to create a matte look with a little bit of glow.
The Holiday collection also features five nail enamels (£9) - how cute is that packaging, it definitely stands out on my little nail polish shelf!
I was given Orchestral to try (far right) a deep navy with multicoloured specks of glitter. This is the perfect colour for this time of year - dark, but with dimension and character.
I would prefer this colour on shorter nails, but as I am a little overdue for gel infills I had to make do with the talons ;). The application was pretty smooth, building up to an opaque colour in two coats. As with most glitter polishes not as much glitter transfers to the nail as in the bottle, but with a little Seche Vite top coat the sparkles were still visible. Wear has been good with minimal chipping and tip wear (but as I have gels polishes wear better than on natural nails).
More information about Paul and Joe Beaute, including stockists is available
here
. Just a little heads up if you are looking for a bargain as
ASOS
are having a little sale on some P&J products (including the pressed powder duo) at the moment ;).
Do you have any recommendations or favourites from Paul and Joe makeuo? Have you spotted anything from their holiday collection that you are lusting after? xxx